Branch versus subsidiary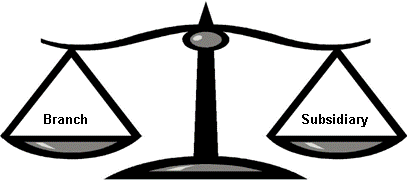 Our selection is based on effective balance of economic, social and environmental responsibilities without minimizing requirements for ethical standards as stated in case. Based on our evaluation of the models above, we think that the Subsidiary should be the right company model at this time of Jiangshan's life when the company needs revolutionary strategy process to meet both the micro and macro challenges as stated previously.
Reasons:

The high cost of production (70%) which is mainly material cost erodes almost all the company margins. There is therefore high level of cross-functional subsidization in the company to sustain the purchasing department and hence the department does not feel the heat. As a subsidiary however, the department will bear all the costs and therefore creates financial discipline in the department.

As an SOE, the bureaucratic and old-fashioned style of management which create complex decisions and policies do not allow the young and talented managers to exhibit their know-how. The subsidiary will provide the opportunity for these young managers to devise appropriate strategies and systems to enhance efficiency and make the department more profitability.

The independency of the purchasing department as a subsidiary means that they will now have to "take the bull by the horn" to make them more competitive in the new environment. Clear design of responsibility areas, like budget decisions, is expected in the new subsidiary without the intervention of the parent company.
The Branch Model
A branch of a company is not a legal entity but an arm of the company which is wholly owned by the parent company. Therefore the branch submits to the policies and decisions of the parent company. The company budgets, whether cost or sales, are determined by the parent company and the branch is expected to meet them, which differs from the current purchasing department where targets could have been negotiated (see case). To meet these budgets, parent companies usually steer the branch company towards company goals by defining responsibility centres and performance measurements, and the necessary rewards which go with them.
The following table summaries the advantages and disadvantages of the branch model.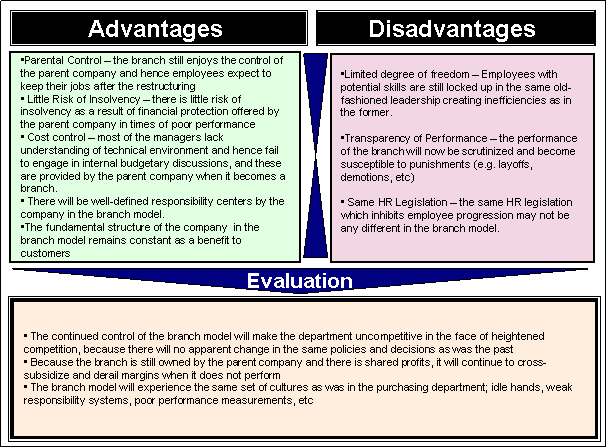 The Subsidiary Model
The subsidiary model of a company is distinct, separate and a legal entity for the purposes of taxation and regulation. A subsidiary is a shared ownership and therefore the parent company exercises control by virtue of ownership of all the shares or 50% plus one shares that it has. The composition of the board of directors is therefore controlled by the parent company.
The following table a brief summary of the advantages and disadvantages in the choice of the subsidiary model.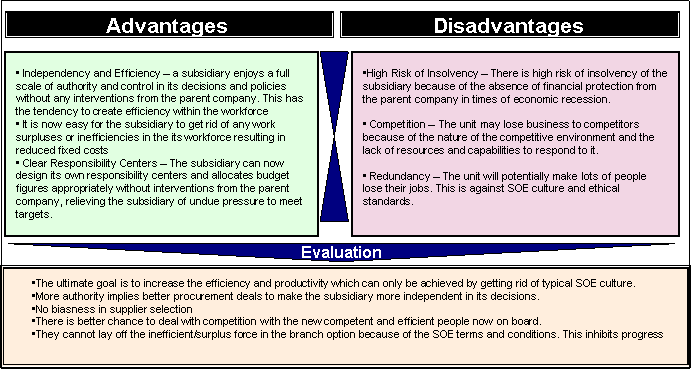 ---
[1] This is a requirement for creation of a subsidiary